Distribution of 250 BE-LCP Learning Gadgets to PNHS-Main SHS
Writer: Ritche G. Beloy, Head Teacher III, PNHS-Main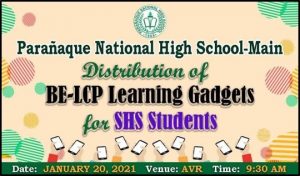 Writer: Ritche G. Beloy, Head Teacher III, PNHS-Main
Parañaque National High School-Main distributed 250 learning gadgets from the BE-LCP (Basic Education-Learning Continuity Plan) to Senior High School students last January 20, 2021.
The 250 learning gadgets were sourced through the office of the Schools Division Superintendent which intend to aid the students in their distance learning.  
During the virtual program, Mr. Jaime O. Sarmiento Jr., Assistant Principal, mentioned that the priority list of recipients is comprised of Grade 11 students who will use Quipper School and Grade 12 students who will undergo their JDVP Immersion Classes.
Mr. Gerry A. Lumaban, School Principal IV, took the opportunity to express the school's collective thanks to Dr. Evangeline P. Ladines, Schools Division Superintendent, for considering PNHS-Main as one of the recipients of the communication gadgets. He pointed out that such generous gesture definitely benefits the learners and will ensure that no one is left behind in distance learning. Also, he urged the parents to help in ensuring that the gadgets are being used properly. Likewise, he made an appeal to the teachers to help in ensuring that the gadgets truly serve their purpose.
In response, Dr. Ladines emphasized that the learning gadgets are not students' personal belonging. She explained that the gadgets will be returned to the custodian at the end of the school year, and will be used by the next batch. Thus, students must take good care of the gadgets and use them to the maximum.
Dr. Ladines thanked the national office headed by the DepEd Secretary Dr. Leonor M. Briones for downloading the fund to SDO Parañaque which led to the procurement of the learning gadgets. She reiterated that the learning gadgets will surely help as the division shifts from purely printed module to digitized module either online or offline.
Based on the data, PNHS-Main SHS has 688 learners without gadgets. This was one of the bases why the school was selected to be the recipient of the 250 learning gadgets. Considering the remaining number, Mr. Lumaban underscored that the school, through the Brigada Eskwela, is continuously promoting its gadget donation drive and making an appeal to the stakeholders for support. Likewise, Mr. Sarmiento remarked that the Brigada Eskwela already distributed 80 gadgets to the SHS students which trimmed down the need to 358 gadgets.
Dr. Ladines concluded her message by appealing to the teachers to give their best in teaching the students and to the parents to give their best support to the learners because for her, education is "pamana".